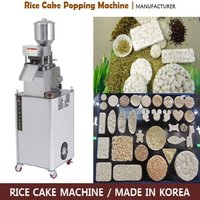 Rice Cakes Making Machine
Product Description
RICE CAKE MACHINE (SYP Model)
As this Shinyoung Mechanics is a company which specializes
in production of the Rice Cake Popping Machine,
we are keeping the No. 1 domestic sales through the 2007 SYP
series and being recognized its excellence selling the product
of over 1,000 units to 40 countries worldwide.
Â
Since our SYP Rice Cake Popping Machine is that design is
compact and convenience is superior on the use and time,
thickness, shape etc are possible to control easily,
it is in wide use from store up to factory.
As the 100% Grain Snack is that nutritious ingredient is excellent
and consumer recognition is good, it is easy to commercialize.
As of now a variety of products such as general snack
(chocolate-coated, flavor-seasoned), cereal for meal substitution or
diet, children snack etc are being developed and sold.
Features
1. Widened Controlling Function
  It is possible to pop any kinds of materials by widened
  pressure control range. (Rice, Brown rice, wheat etc..)
2. Silent Operation
  There are no shocks by oil pressure system and it is
  possible to use everywhere and anyplace
3. Automatic Production
  It is possible to manufacture automatically by Microcontroller
  system and pushing the manufactured goods
4. Automatic Temperature Controlling
  It is convenient to operate by automatic temperature
  controlling system from the TPR system in this machine
5. Excellent Persistence
  There are no shocks and no breakdown
6. Easy adjustment
  Thickness, Deep of mold & Cooking time can be adjusted
  by front handle
7. Easy movement : Machine can be moved by handÂ
MODEL
SYP8501 Round 85mm (3~10mm) 360pcs 1pc per shot
SYP9001 Round 90mm(3~10mm) 360pcs 1pc per shot
SYP10001 Round 100mm(3~15mm) 360pcs 1pc per shot
SYP6502 Round 65mm(3~10mm) 720pcs 2pcs per shot
SYP8502 Round 85mm(3~10mm) 720pcs 2pcs per shot
SYP4506 Round 45mm(3~8mm) 2,160pcs 6pcs per shot
SYP3008 Round 30mm(3~8mm) 2,880pcs 8pcs per shot
SYP2515 Round 25mm(3~8mm) 5,400pcs 15pcs per shot
SYP8585(S1) Square 85mm(3~10mm) 360pcs 1pc per shot
SYP50115(R1) Rectangle 50*115mm(3~10mm) 360pcs 1pc per shot
SYP6060(S2) Square 60mm(3~10mm) 720pcs 2pcs per shot
SYP4570(R3) Rectangle 45/70mm(3~8mm) 1,080pcs 3pcs per shot
SYP2575(R5) Rectangle 25/75mm(3~8mm) 1,800pcs 5pcs per shot
SYP6758(T4) Triangle 67/58mm(H) (3-8mm) 1,440pcs 4pcs per shot
Other models are available (Bear, Mouse, Bone, Animal etc.)
Â
Best Regards
Shinyoung Mechanics Co.,Ltd.Â
Trade Information
Telegraphic Transfer (T/T)

50 Units Per Month
2 Week

Sample costs shipping and taxes has to be paid by the buyer
Western Europe, Eastern Europe, South America, North America
Contact Us
A-501/502 261 Doyak-ro, Wonmi-gu, Buchon, Gyeonggi-do, 14523, Korea South
Phone :82-502-2703658